Welcome to AJ-Images.com!

WILD ABOUT JOLSON Talk Show


"

FLAp Podcast



New short film: SERENITY

Check out our recently finished, artistic short film project. SERENITY was written, directed and edited by Andrea Oberheiden-Brent and published on December 30th, 2016. Her first non-documentary project focuses on the importance of succumbing to death as opposed to fighting against the inescapability and inevitability of it. It also presents death as something that haunts all living things and exposes the human concept of a certain value of life as highly subjective.

SERENITY features the poem "Fear no more the heat o' the sun" from the play "Cymbeline", Act IV. Scene 2, probably written in 1610 by William Shakespeare.

10 YEARS OF AL JOLSON DOCUMENTARY WORKS

2016 marks the 10th and last year of our Al Jolson documentary adventures. For that occasion, we are starting a Youtube mini-series of 11 short episodes with behind-the-scenes material and preview footage of our upcoming film - for each year from 2006 to 2016.

Our first video will come out in May, as our very first Jolson documentary trip to the USA took place in May 2006. Little did we know that this would NOT be the only "Jolson trip", hah!

So, stay tuned!

>>AJ-Images on Youtube




ON THE ROAD TO AL JOLSON

Join the film team on their fascinating, DECADE-LONG travels to bring Al Jolson back to life. Watch them reveal TIMELESS accounts of hardship and the STRUGGLES OF IMMIGRATION and hear them tell a remarkable story of FAME.

Follow them on their journey to themselves - a tale about their own cultural heritage, about FINDING LOVE and a purpose in life.

Estimated release date: October 2017.

>>Film site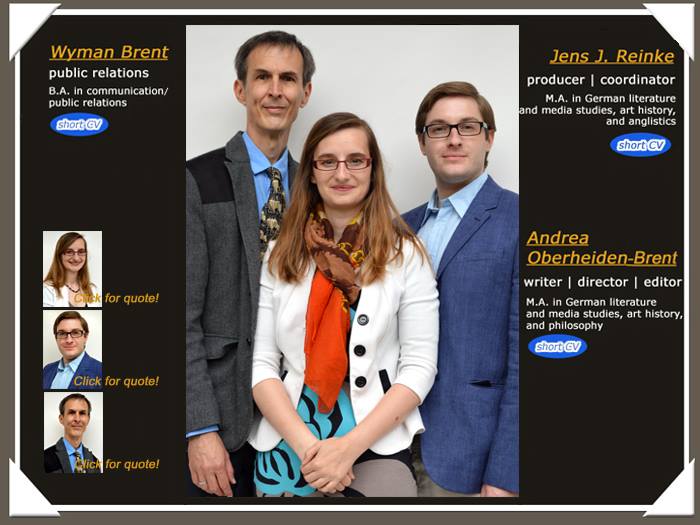 About us

AJ-Images is a small multimedia production firm. We produce our own

films

and

podcasts

, but we also offer services in

content producing

,

editing

,

social media management

,

translations

,

graphic design

as well as in

writing and proofreading

. Please look under

Services

in our main menu for more information.

>>About us...



Projects


Our two current documentary projects are

On The Road to Al Jolson

and "

Wyman Brent and the Vilnius Jewish Public Library

". Both films are intimately connected with

Jewish history and culture

.

>>More...

AJ-IMAGES

Follow @A_Oberheiden

On our

Facebook page

and

Twitter channel

you can find the latest news regarding our filmwork, including our upcoming documentary "

On the Road to Al Jolson

". Watch

preview clips

,

outtakes

,

trailers

and

unused material

. Follow us on our filmmaking adventures!
FLAP PODCAST

Follow @FLApPodcast FLAp

is our

film

,

literature

and

art

video podcast. You can find the episodes on our different social media pages as well as on our FLAp website. FLAp discusses various topics of film, literature, and art, and features

interviews

,

film talks

, and short

lectures

on different subjects. From time to time, we will also highlight unused material which we created as documentary filmmakers. We started our podcast with several episodes on

Robin Williams

, which includes an interview with

Douglas Soesbe

, writer of "

Boulevard

", Robin's last dramatic film.
WILD ABOUT JOLSON Talk Show

This is a collaboration between

Andrea Oberheiden-Brent

,

Nigel Dreiner

,

Andrew Serio

and

Vlad Petnicki

. For each audio episode, we come together to talk about a certain topic regarding the

World's Greatest Entertainer

. Join our Facebook group

HERE

to comment and follow fascinating discussions among fans and hopefully some "newbies".